Herbs for Diabetes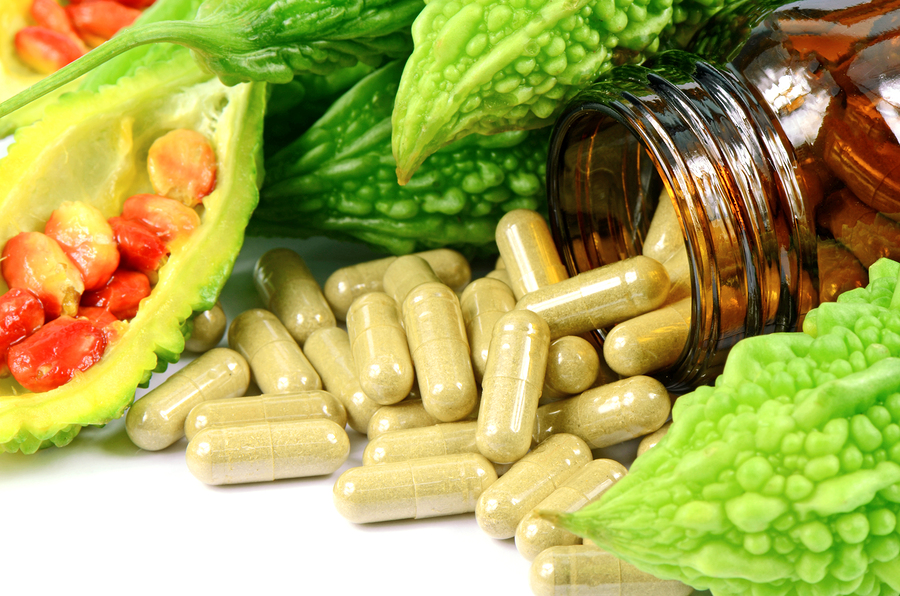 Looking for herbs for diabetes?  Many popular spices and herbs are claimed to have blood glucose lowering properties that make them useful for individuals with or at high risk of diabetes mellitus.
Lots of clinical studies have been carried out in recent years linking herbal remedies and improved blood glucose management.  More and more people are using these more 'natural' ingredients to help control or manage their diabetes.
Some Proven Herbs for Diabetes
Plant-based remedies that have been shown in some scientific studies to have anti-diabetic properties include: 
•    Aloe Vera
•    Ginger
•    Bitter melon
•    Bilberry extract
•    Cinnamon
•    Okra
•    Fenugreek
While such remedies are popularly used in Ayurvedic and oriental medicine for treating serious conditions such as diabetes mellitus, many healthcare experts in the west still remain skeptical about their reported medical benefits.
In fact, because certain herbs, supplements, and vitamin may interact with diabetes medications- including insulin- and potentially increase their hypoglycemic effects, it is often argued that use of natural remedies could significantly reduce blood glucose to dangerously low levels and raise the risk of other serious diabetes mellitus complications.
Whatever your intended reasons for using these specific herbs and remedies, you must always discuss your plans with your physician or natural healthcare practitioner to ensure they are safe for your condition and determine a suitable dose for you.
Some of the Most Popular Known Natural Remedies for Diabetes 
The plant and herb derivatives listed below have been employed traditionally by people around the world in the treatment of diabetes mellitus, in the areas in which they grow.
Allium
Allium sativum is more popularly known as garlic and is known to offer antioxidant properties and microcirculatory effects. Although few scientific studies have directly linked allium with insulin and blood sugar levels, results have been positive.
Allium may cause a reduction in blood sugar, increase secretion and slow the degradation of insulin. Limited data is available, however, and further test and trials are needed.
Bauhinia fornicate and Myrcia uniflora
Bauhinia forficata mostly grows in South America and is used in Brazilian herbal cures. This herb has been referred to as 'vegetable insulin' by alternative healthcare practitioners. Myrcia uniflora is also widely employed in South America. Scientific studies utilizing the herbs as tea infusions mostly suggest that their hypoglycemic effects are sometimes overrated.
Coccinia indica
Coccinia indica is also popularly known as the 'ivy gourd' and grows wild across the Indian subcontinent. Traditionally employed in Ayurvedic remedies, the herb has been discovered to contain insulin-mimetic properties (i.e.; it mimics the function of insulin).
Significant alterations in glycemic control have been observed in scientific studies involving coccinia indica, and health experts believe that it should be studied further.
Ficus Carica
Ficus carica, otherwise known as fig-leaf, is popular as a diabetic remedy in South-western Europe and Spain, but its active property is unknown. Some clinical studies on animals suggest that fig-leaf facilitates sugar uptake. The efficacy of the herb is, however, still yet to be validated in the treatment of diabetes mellitus.
Ginseng
Ginseng is a compound name for a variety of different plant species.
In some clinical studies utilizing American ginseng, decreases in fasting blood sugar were reported. Varieties include American ginseng, Siberian ginseng, Korean ginseng, and Japanese ginseng. In some fields, the herb, particularly the Panax species, are hailed as 'cure-all.' As is the case with many of the herbs and plants employed around the world in the treatment of diabetes mellitus, further long-term scientific studies are needed to verify the efficacy of ginseng.
Gymnema Sylvestre
Gymnema Sylvestre is also used in traditional Ayurvedic medicine. The herb grows in the tropical forests of central and Southern India and has been linked with significant reductions in blood sugar. Some clinical studies in animals have even reported regeneration of islet cells and an increase in beta-cell function. Gymnema is also known to reduce sugar cravings.
Trigonella foenum graecum
Trigonella foenum graecum is known as fenugreek and is widely grown in North Africa, India and parts of the Mediterranean. It is also a part of the very popular Ayurvedic treatment and is used extensively in cooking. Of the few non-controlled trials that have been carried out on type II diabetes mellitus, most report improved glycemic control. Further study is certainly needed.
More Herbs for Diabetes that have been studied, and may have positive effects for diabetic patients
•    Berberine
•    Vinca rosea
•    Pterocarpus marsupium
•    Gingko
•    Cinnamomym tamala
•    Curry
•    Eugenia jambolana
•    Phyllanthus amarus
•    Solanum torvum and
More Information
---
Like This Page?